BUSINESS IN BRIEF 2/3
HoREA wants easy credit for property sector continued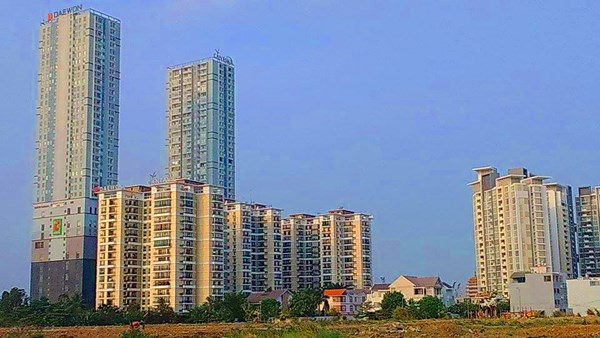 Chinese venture capital fund Gobi Partners has invested half a million U.S. dollars in Triip.me, a Vietnamese startup project that provides tourism services online.
Triip.me will spend the money recruiting more staff to support its expansion. The firm posted monthly revenue of about US$1,000 in mid-2015, but has begun to operate profitably as sales have increased by 10 times.
Lam Thi Thuy Ha, chief executive officer of Triip.me, said her company previously had only two people to operate the tourism platform. With the new funding, the firm will be able to carry out its communication and marketing plans to boost sales.
Ha said the partnership with Gobi Partners brings Triip.me knowhow and experience in tourism in addition to capital injection.
Established in 2013, Triip.me helps connect travelers with local people by applying community resources to build tours across the world. The tourism platform uses a model similar to Airbnb's to allow any person to create tours for sale and link sellers and buyers. Unlike traditional travel agencies, Triip.me tours are designed by local people, who are called Triip Creators.
So far, Triip.me has branched out to 86 markets worldwide. Through websites or mobile apps, it enables everyone to participate in the tours to share their lives and personal stories with tourists.
As of mid-2015, there had been 7,000 Triip.me users and 9,000 Triip Creators, and the successful tours had numbered 5,000. Triip.me gets 10% of the fee of each tour done.
Triip.me started with tours in Vietnam before expanding to other markets in the world. Tours offered on Triip.me are diverse, from rowing a small boat in a floating market of the Mekong Delta with a local family to strolling in a crowded and noisy corner of Hanoi with a tour guide who is a student to explore ancient buildings.
Ha said most Triip Creators have their own jobs and work as tour guides as their part-time job to earn extra incomes.
Tours sold on Triip.me are safe as tour guides are thoroughly checked. The firm requires Triip Creators to provide personal documents such as passports or ID and also check the places suggested by tour guides through an app installed on smartphones.
Triip.me will transfer money to Triip Creators only after tours end and travelers are pleased with what they are promised.
Ha said Triip.me helps people change the way they travel, create jobs for local people and localities preserve local culture.
Binh Dinh urged to focus more on tourism
With beautiful landscapes and historic relics, Binh Dinh Province needs to focus more on attracting investors to tourism and developing it into a key sector to fuel growth.
Many investors, researchers, scientists and corporate leaders shared the same view on tourism development in Binh Dinh at a seminar held by the provincial government in cooperation with the countrymen association of Binh Dinh Province in HCMC over the weekend.
Nguyen Huu Tho, chairman of the Vietnam Tourism Association (VITA), said the province hold great growth potential in tourism, especially sea tourism. If the province spends more on infrastructure for the sector and has more four to five-star hotels, the number of visitors would be higher than last year's figure of 2.6 million.
International cruise ships with large numbers of passengers on board have called at Cai Mep, Nha Trang, Haiphong, and Danang ports, but have not visited Quy Nhon port in Binh Dinh. Therefore, Tho proposed the province team up with popular travel firms like Saigontourist and strong international partners to attract foreign tourists to Quy Nhon.
The province needs to seek investment in sea tourism in Quy Nhon City, Tho said, adding that tourism development should be considered a key driver for economic growth in the province.
Huong Tran Kieu Dung, general director of FLC Group, said Binh Dinh has many gorgeous natural sites, so the group has invested heavily in the province's tourism. But she proposed the province promote tourism potential locally and internationally and upgrade Phu Cat airport to enable it handle direct international flights.
Dung asked the provincial government to woo more investors to luxury lodging facilities and encourage local people to develop community-based tourism products to help turn the province into a key tourist destination.
According to the Binh Dinh Department of Planning and Investment, more big enterprises have invested in tourism and hotel projects in the province. For instance, FLC Group has pledged a total of VND5 trillion (US$223.4 million) for its FLC Nhon Ly tourism complex and Eo Gio luxury eco-tourism resort, while Vingroup has registered VND3.5 trillion (US$157.5 million) for Vinpearl Quy Nhon tourism complex.
The province is seeking investors for many major tourism projects, including a 10,027-square-meter, five-star hotel in the urban-commercial-service area west of An Duong Vuong Street and an ecotourism area at Thi Nai Lagoon, Mui Rong-Tan Phung tourism area in Phu My Commune, and Nui Mot Lake eco-tourism zone in An Nhon.
At the seminar, investors, scientists, and corporate leaders called for Binh Dinh to channel more investment to marine economic development, seafood and farm produce processing.
The province was urged to improve the investment environment and assist investors in completing administrative procedures and solving difficulties.
Foreign and domestic enterprises pledged VND5.95 trillion for 33 projects in infrastructure, urban development, manufacturing, trading, service, and aquaculture last year, including six foreign invested projects worth VND947.7 billion (US$42.3 million).
Property brokers assoc backs strict new rule
The Vietnam Association of Property Brokers has thrown support behind the Ministry of Construction's Circular 11/2015/TT-BXD that requires all property brokers to hold a practicing certificate.
The association said the new regulation in the circular that took effect last week will support the number of qualified and professional brokers to grow on the market and prevent possible losses for homebuyers.
Nguyen Van Dinh, general secretary of the association, said 30,000 property brokers were granted practicing certificates under the 2006 Law on Real Estate Business in previous years but only half of them are still working.
In the past, what property brokers needed was to complete a short course and then applied for a practicing certificate without having to take a test. Those who got the certificate will not be affected by the circular as it says the certificate will be valid for five years from July 1 last year when the date the 2015 Law on Real Estate Business came into force.
The circular only requires uncertified brokers to take a test to get a practicing certificate. Dinh said the test aims to check knowledge and skills of property brokers and that certified brokers will help limit risks for the parties involved in a transaction.
"We support strict controls on issuing such a certificate for property brokers since they participate in important transactions that will cause bad consequences if relevant information they provide and legal compliance are not ensured," Dinh said.
The association suggested proper penalties be in place to stem brokers from enticing customers into buying homes at problem projects. Currently, property investors are fined when it comes to legal cases while brokers are not.
Under the circular, local construction departments are assigned to organize tests and issue practicing certificates for brokers. However, Dinh said that relevant associations should be invited to take part in training and examination processes to guarantee the quality and skills of property brokers.
Dinh predicted that competition among property brokers will intensify this year as demand will slow while the market will see an upsurge in supply. Last year was favorable for property exchanges and brokers as demand picked up significantly after years of stagnation.
The ASEAN Economic Community (AEC) was in place last year, allowing brokerage agencies in other member states to expand their operation to Vietnam. This will affect market share of domestic brokerage firms on the home market but open up new opportunities for capable companies to reach out to the regional market.
POSCO Energy to build second thermal power plant in Vietnam
POSCO Energy Co. said on February 22 that it signed a memorandum of understanding (MOU) agreement on Sunday with Nghe An provincial government to build a thermal power plant, the second coal-fueled power plant to be built by the South Korean company in Viet Nam.
POSCO Energy Co will build a thermal power plant in Nghe An Province. The plant will produce an annual power capacity of 1200 megawatts (MW), with two 600 MW-reactors. -Photo fuelcellenergy.com
According to POSCO Energy, the company will build Quynh Lap II thermal power plant in Vinh City, Nghe An province in northern central Viet Nam, about 270 kilometers away from Ha Noi. The plant will produce an annual power capacity of 1200 megawatts (MW), with two 600 MW-reactors.
The energy arm of South Korea's steel giant Posco completed construction and started operations of Mong Duong 2 coal-fired thermal power plant in northern Quang Ninh Province in Viet Nam last October.
The provincial government has been inviting private companies to build power plants that could steadily feed power to the special district for heavy industries that will be formed to recruit steel and machinery manufacturers. The South Korean energy company will transfer ownership of the plant to the local government after it builds and operates the plant for a certain period based on the contract.
Yoon Dong-jun, POSCO Energy president, hoped that Quynh Lap II thermal power plant construction will help it further enhance its presence in Viet Nam.
Property giant to develop five projects in 2016
Property developer Novaland on Tuesday announced that it would develop five new projects this year, bringing to the market around 4,000 products.
The company did not disclose details but said that the new projects would be developed in the central region of the city and that information would be published in March and April.
Phan Thanh Huy, general director of Novaland, said that the year 2016 would mark a turning point of his company when urban area projects are developed, offering houses, villas and shophouses to the market for the first time.
Huy also confirmed that Novaland would limit buying a new project to control credit. Its credit balance will not increase, he said, adding that quality would be further enhanced.
Novaland stressed that it would continue to maintain the progress of projects introduced to the market last year so they will be ready in time.
These include Sunrise Riverside, RichStar, The Sun Avenue, Golden Mansion, Orchard Parkview and Botanica Premier.
Last year, the company developed 12 projects, bringing the total number of company projects to 27.
Rising exports help VN register trade surplus in January, February
Viet Nam gained a trade surplus at US$900 million in the first two months of this year because of strong reduction in imports and regular increase of exports.
The General Statistics Office (GSO) said that in the first two months, national total import value had a year-on-year reduction at 6.6 per cent to $22.8 billion while the total export value gained a year-on-year increase of 2.9 per cent to $23.7 billion.
Viet Nam's imports decreased in most of the major markets against the same period last year. In particular, imports from China, the largest import market of Viet Nam, dropped by 5.6 per cent in the first two months to $7 billion, leading to the trade deficit between Viet Nam and China, which plunged 9.6 per cent year-on-year to $4.7 billion.
The import value to Viet Nam also fell by 26.6 per cent to $1.3 billion from the European Union (EU), 9.5 per cent to $1.9 billion from Japan, 7.6 per cent to $3.2 billion from ASEAN, and 4.8 per cent to $3.9 billion from South Korea; in addition to 4.2 per cent to $1 billion from the United States.
The foreign-invested economic sector witnessed reduction in imports during the first two months at 7.7 per cent year-on-year to $13.6 billion while the domestic economic sector's import value dropped by 4.8 per cent to $9.2 billion compared with the same period of last year.
During the first two months, machine, equipment and parts for production had the largest import value at $3.8 billion, a year-on-year reduction at 13.6 per cent.
The import value of petrol and oil products fell strongest by 34.8 per cent to $530 million due to a strong drop in the world crude oil price, though the import volume of petrol and oil products increased by 12.2 per cent to 1.7 million tonnes.
The GSO also reported that export value of foreign invested and domestic economic sectors gained a year-on-year increase of 2.3 per cent to $16.6 billion and 4.2 per cent to $7.1 billion, respectively.
Experts from the GSO said that an increase of the national total export value was due to the export contracts with traditional partners.
Most major export products saw an increase in export value compared to the same period last year, including telephone, garment, footwear, and wood and wooden products, in addition to seafood, rice, fruit and vegetables.
However, export value of crude oil witnessed a strong drop of 63 per cent to $250 million in the first two months against the same period of last year. Other products which plunged in export value included cassava and pepper
Taxpayer database to stop payment evasion
The development of a taxpayers' database is necessary to improve the management of tax agencies and prevent tax evasions, such as transfer pricing, according to Deputy Minister of Finance Do Hoang Anh Tuan.
However, developing a taxpayer database would require the coordination of many organisations in different industries, such as garment, textile, footwear and beverages, he said at an online meeting last Friday, held by the General Department of Taxation.
Tuan noted that simplifying tax administrative procedures, coupled with applying information technology, were first steps in developing a reliable database for better management.
With a taxpayer database containing transparent financial indicators, the quality of forecasts of budget collections would be improved, said Tran Van Phu, Deputy General Director of the taxation department.
At the conference, tax authorities also raised concerns about difficulties in collecting tax debts and slow tax refunds.
Nguyen Dinh An, Deputy Director of Da Nang Taxation Department, said that tax refund regulations must be made clear, as enterprises were angry about slow refunds, while they had to pay fines due to the slow payment of debts.
In 2016, central budget collections were anticipated to drop by some VND50 trillion (US$2.22 billion) due to plunging global oil prices.
To cope with this drop, tax departments urged provinces and cities throughout the country to raise measures to promote production and business, while focusing on handing tax debts and enhancing inspections in sectors in which tax frauds and transfer pricing commonly occurred.
During the 2016-20 period, the General Department of Taxation set a goal for domestic tax collections to reach more than 80 per cent of total budget revenues, while increasing by 10 per cent over the previous five-year period.
This was an effort to implement the 12th Party Congress Resolution, which said that the proportion of tax collections to the State budget must be at least equal to 21-22 per cent of the country's gross domestic product (GDP) and ensure a budget deficit of below 4 per cent and public debt at below 65 per cent of GDP.
Still, the department said that tax collections must be increased in line with economic growth and price index increases.
Last year, tax collections reached VND806.3 trillion, or 110.2 per cent of estimates.
VEF/VNA/VNS/VOV/SGT/SGGP/Dantri/VET/VIR
News Relation