Embassies seek investment from Germany, S Africa
Việt Nam has great demand for capital and technology from European nations, said Viet Nam's Ambassador to Germany, Đoàn Xuân Hưng, at an investment conference in Frankfurt on Tuesday.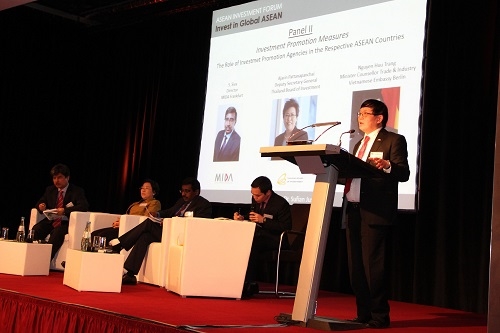 Viet Nam's Ambassador to Germany, Doan Xuan Hung speaks at the conference. — Photo VNA
HÀ NỘI Viet Nam News - — Việt Nam has great demand for capital and technology from European nations, said Viet Nam's Ambassador to Germany, Đoàn Xuân Hưng, at an investment conference in Frankfurt on Tuesday.
Việt Nam will create advantageous conditions for German companies looking to invest and do business in Việt Nam, he said.
The conference was co-organised by the Vietnamese, Malaysian and Thai embassies to discuss the investment environment of the Association of Southeast Asian Nations (ASEAN), especially changes in this environment following the establishment of the ASEAN Economic Community.
Participants said that ASEAN nations wanted to bridge development gaps inside the bloc, to create an investment environment that would help European investors.
Hưng said Việt Nam was completing its legal framework and simplifying administrative procedures to speed up international integration.
He noted that with trade deals such as the Trans-Pacific Partnership and the European–Việt Nam Free Trade Agreement, Việt Nam had significant competitive advantages.
According to Trade Counsellor Nguyễn Hữu Tráng, there were around 100,000 Vietnamese people speaking German in Việt Nam, and about 125,000 Vietnamese people in Germany. This was "a precious resource" for boosting bilateral trade and investment relations, he said.
He praised the contributions of German businesses such as Mercedes Benz, Siemens and Bosch to Việt Nam's economy over the past years.
The Vietnamese embassy in Germany plans to hold a seminar hosting business people from the two countries in late June, seeking measures to enhance the efficiency of bilateral economic co-operation in the future.
South Africa
On Tuesday, the Vietnamese embassy in South Africa held a forum to foster co-operation between the two countries in the marine transport sector, in the capital of Pretoria.
Sài Gòn Newport Corporation General Director Nguyễn Đăng Nghiêm told the forum that his company would speed up co-operation with global partners, including South African ones.
The company expected further collaboration in international shipping, infrastructure development and real estate, he said.
Wilfred Gentle, the import director at Morgan Cargo Company, said his firm had studied opportunities to collaborate with Vietnamese businesses.
Colin Schonfeldt, a representative of Radio Data Communications Company, said the 40-year-old telecommunications equipment manufacturer was studying Việt Nam's investment environment, as it planned to move factories in China to Việt Nam.
On the occasion, the embassy promoted various Vietnamese products, including Trung Nguyên coffee, tra fish and rice, in South Africa.
Ambassador to South Africa, Lê Huy Hoàng, said the trade value between Việt Nam and South Africa currently totalled US$1.2 billion, yet the countries had not been able to exploit their full potential due to obstacles related to transportation costs.
Ben De Klark, who represented the Johannesburg Chamber of Commerce and Industry, said many South African enterprises wanted to partner with Vietnamese peers, but geographical distance remained a barrier for partnerships.
Hoàng urged marine transport and logistics enterprises to join hands to help importers and exporters from both countries.
VNS
News Relation