VN investment in Laos to grow
Governments will improve policies to accelerate investment flows from Việt Nam to Laos, a conference was told in the central city of Da Nang on Sunday.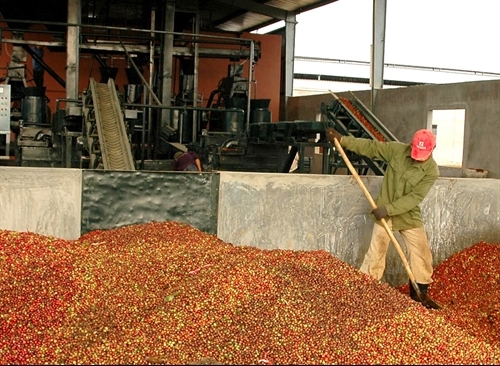 Coffee being processed at a plant in Laos by the Thái Hòa Group. Governments will improve policies to boost Vietnamese investment in Laos. — VNA/VNS Photo Trần Việt
ĐÀ NẴNG (VNS) — Governments will improve policies to accelerate investment flows from Việt Nam to Laos, a conference was told in the central city of Da Nang on Sunday.
Việt Nam's investments in Laos now totals US$5.3 billion in registered capital, with annual growth rates averaging 30 per cent over the last five years, said Trần Bắc Hà, Chairman of the Association of Việt Nam Investors to Laos (AVIL).
About 42 per cent of the amount, or US$2.2 billion, has been disbursed.
More than 350 Vietnamese businesses have invested in sectors such as energy, mining, agriculture, forestry and banking in Laos.
Investments registered in Laos account for roughly one quarter of Việt Nam's overseas investments of US$20.2 billion.
Đỗ Nhất Hoàng, director of the Ministry of Planning and Investment's Foreign Investment Agency, said during a bilateral business dialogue on Saturday that Laos is now the largest investment destination for Việt Nam, and Việt Nam is the third-largest foreign investor in Laos.
Official data revealed that Vietnamese projects generated jobs for about 40,000 Lao workers, significantly contributing to socio-economic development in 18 provinces and cities in Laos.
Projects of property developer Hoàng Anh-Gia Lai, telecom operator Viettel and the Việt Nam National Petroleum Group have been particularly appreciated by the Lao government.
"We call for more effective investment projects from Việt Nam," Deputy Prime Minister of Laos Somsavat Lengsavat said, adding that his country stimulates investments in healthcare and education, especially better-equipped hospitals and universities.
Lengsavat said that the two governments will dismantle all barriers to investments as both nations are on the path to speedy integration into the ASEAN Economic Community (AEC), which was established last December 31.
Deputy Prime Minister of Việt Nam Nguyễn Xuân Phúc said the governments will review bilateral trades and transport links between two countries, as well as hydropower plants on Mekong River.
Minister of Planning and Investment, Bùi Quang Vinh, urged the two countries to boost cooperation in production for exports to take advantage of opportunities not only in the AEC, but also in the Trans-Pacific Partnership – the biggest trade deal ever signed by 12 Pacific rim nations, including Việt Nam, in early February.
Last weekend's meetings heard that many Vietnamese enterprises still lack information about the Lao market and investment environment, however.
Shortcomings related to taxes, customs procedures, and credit, as well as human resources and power charges also hindered the progress of some Vietnamese projects in Laos.
Hà from AVIL suggested that the two governments build a website carrying investment information for both countries, and that Lao authorities should establish a "one-stop shop" for investors dealing with administrative procedures, for smoother investment flows.
Việt Nam Rubber Group Deputy General Director, Nguyễn Tiến Đức, said his company has grown 27,000ha of rubber in Laos with an investment capital of VNĐ3.5 trillion ($156 million). It has recently harvested 12,000 ha with an output of 15,000 tonnes of rubber latex.
As prices of this commodity has fallen from $5,100 per tonne in 2008 to $900 per tonne last year, his firm expects better interest rates, taxes and fee policies to adapt to current market conditions in Laos, he said.
Other enterprises said the two governments should improve key infrastructure, including highways, railways and port systems to facilitate the operations of businesses.
VNS
News Relation