Is the franchise boom over?
VietNamNet Bridge - Many investors who once intended to start up business with franchise contracts have given up because of the high investment rate.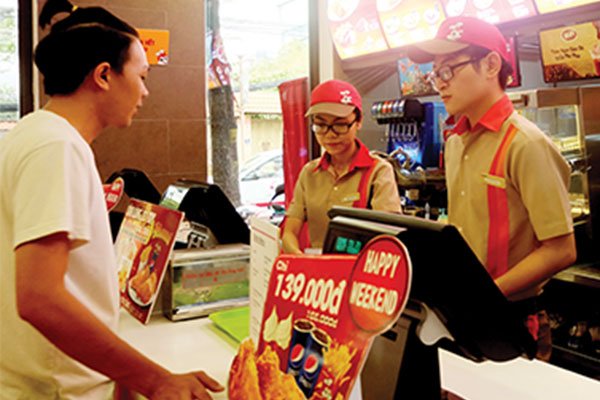 According to a branding expert, it costs VND4.5-5 billion to open one Jollibee fast food shop, which does not include the retail premises rent.
In general, a franchise license is valid for five years. Every month, franchisees have to pay 5 percent of revenue to the franchiser, while the franchise fee can be changed for extended contracts.
According to Jollibee, it charges higher franchise fee in other markets, about 10 percent of revenue.
Meanwhile, in order to open a Lotteria shop with an area of 130-250 square meters, investors would have to spend VND4-5.5 billion on machines and equipment alone. Besides, franchisees have to pay the admission fee of VND200 million, not including VAT and the monthly brand fee, estimated at 3 percent of revenue.
As for Subway, franchisees would have to pay $110,000 (VND2.4 billion) to open the first Subway shop. This does not include expenses on equipment and retail premises. Subway shops must cover an area of 60 square meters at minimum.
South Korean Caffe Bene charges secondary franchise fee per square meter of area, $100 per square meter at maximum, while a shop is 150-300 square meters large. Every month, franchisees have to pay 5 percent of revenue on franchise fee and 1 percent of revenue on ads.
According to Truong Tuan Anh, deputy director of Caffe Bene Vina, a Caffe Bene shop costs about $300,000, or VND6.6 billion.
With the required high investment rates and big difficulties in accessing bank loans, a lot of investors, who intended to develop fast food and drink chains under franchise contracts, have shrunk back.
The representative of a fast food chain which began franchising in late 2014 and now has about 10 shops in HCMC, noted that most of franchisees are not startups, but the experienced businessmen, who want to change jobs.
The veteran businessmen have many years' experience in doing business and they find it is not too difficult to arrange VND5-7 billion in capital.
"We don't put high expectations on startups unless they can mobilize capital from family members and don't rely on loans," he said.
Jollibee also said it prioritizes the businessmen who have financial capability and have suitable retail premises already.
A senior executive of the chain said of the 120 applications for franchise it received in the first month since it began franchising, only 10-15 percent showed development potential.
Of 70 Jollibee shops in Vietnam, some can recover the investment capital after two years of operation, while others need eight years to do this.

TBKTSG
News Relation