VN Index falls for a second day
Vietnamese shares yesterday declined on both local markets, driven down by energy companies and food and beverage producers.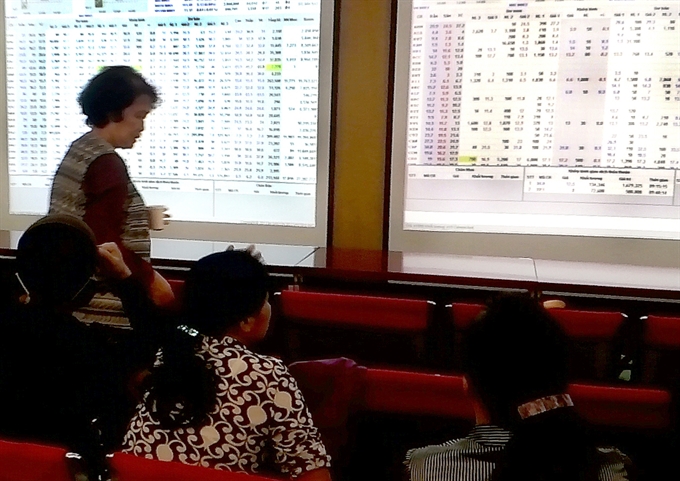 Investors on the SSI exchange floor. The benchmark VN Index slipped further yesterday as energy and food and beverage sectors declined. -- VNS Photo Đoàn Tùng

HÀ NỘI - Vietnamese shares yesterday declined on both local markets, driven down by energy companies and food and beverage producers.
The benchmark VN Index on the HCM Stock Exchange dropped 0.6 per cent to close at 572.27 points. The southern index fell 1.2 per cent over the last two sessions.
The HNX Index on the Hà Nội Stock Exchange was down 0.4 per cent to finish at 80.30 points, ending a three-day rally of 1.2 per cent.
The energy sector suffered losses as global oil prices yesterday slipped for a second day after US producers increased their number of active drilling rigs for the first time in three months.
US benchmark crude West Texas Intermediate (WTI) dropped 0.8 per cent to trade at US$39.14 a barrel. Meanwhile, London-traded Brent crude fell before inching up 0.2 per cent to trade at $41.28 a barrel.
Among local energy stocks, PetroVietnam Gas Corporation (GAS) lost 2.6 per cent, PetroVietnam Drilling and Well Service Corporation (PVD) fell 1.9 per cent, and PetroVietnam Mud Drilling Corporation (PVC) slid 2.7 per cent.
The food and beverage sector was pulled down by dairy firm Vinamilk (VNM) and instant food producer Masan Group (MSN).
VNM slipped 2.2 per cent on profit-taking as the stock gained 2.2 per cent last week. MSN was down 2.1 per cent, extending its fall of 6.7 per cent in the last five trading days.
The banking sector also helped drag the markets down. Military Bank (MBB) declined by 0.7 per cent after the bank on Friday announced it raised the number of voting shares.
Sài Gòn-Hà Nội Bank (SHB), Eximbank (EIB) and the Asia Commercial Bank (ACB) dropped 1.5 per cent, 1 per cent and 0.6 per cent, respectively.
Other stocks that also declined included Hoàng Quân Consulting-Trading Service Real Estate Corporation (HQC), Quảng Nam Rubber Investment JSC (VHG) and insurer Bảo Việt Holdings (BVH). HQC and VHG fell 4.8 per cent each and BVH lost 1 per cent.
On the opposite side, Vietcombank (VCB), An Phát Plastic and Green Environment JSC (AAA) and the Telecommunication Industry Electronics JSC (TIE) rose to bolster the markets.
VCB added 0.9 per cent and AAA increased by 0.6 per cent after both firms announced they will allow foreign investors to raise their ownership in the two firms, and TIE surged 6.2 per cent after Sài Gòn Industry Corporation (CNS) successfully sold its 50 per cent stake in the company.
Both local markets traded nearly 224.7 million shares worth more than VNĐ3.24 trillion ($144.2 million), a decrease of 16.6 per cent from last week's daily trading value.
VNS
News Relation